article
article
Hack a Dutch Design
Upgrade IKEA
IKEA's mission is to make design accessible and affordable for everyone. It's a laudable goal, but it does lead to a certain uniformity and neutrality. Dutch design, on the other hand, is known for its expressive, conceptual and humorous qualities, but its products are often not intended for the masses. What if you hacked IKEA with a Dutch design sensibility?

When IKEA asked Hella Jongerius to design a vase, it rocked the Dutch design world. How could you combine the high quality standards and conceptual sensibility of a designer like Jongerius with IKEA's design-for-everyone vision? Owning a 'real' Jongerius is a bit like having a museum piece in your house; an IKEA Jongerius is something else. The debate that arose around Jongerius' IKEA PS Jonsberg vase series showed us how Dutch design likes to profile itself: as exceptional design no one can afford. At least, that's designer Bas van Beek's take. For a few years now, he's been making cheap 'rip-offs' of costly design products, as a commentary on famous designers' tendency to make exclusive, expensive pieces. So it was no surprise when he hacked one of Jongerius's vases for Platform21 = Hacking IKEA.
Van Beek chose the cheapest glass vase in IKEA's range (currently the Blomster, at €6.99), placed it atop one of Hella Jongerius's big round ones, and bound them together for eternity with a piece of tape. The resulting image is an obvious 'rip-off' of one of Jongerius's 'museum pieces', the Groove Bottle. Van Beek calls his design Simulacrum, and it is in fact a double hack.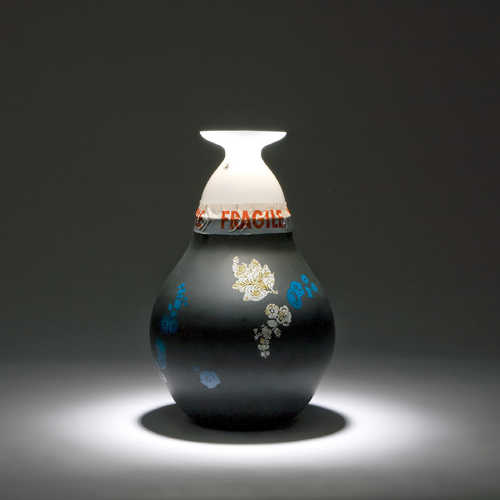 Bas van Beek
Simulacrum, design Bas van Beek. Photo: Leo Veger
But there are other ways to hack Dutch design products IKEA-style. With his Ölke Bölke chest, designer Tejo Remy (Remy&Veenhuizen) gives us a legitimised IKEA copy of one of the many variations on the stacked chest of drawers for which he is internationally famous. Remy calls it an improvisational assemblage that takes IKEA's slogan 'Design your own life' a step further: he's telling us to look at IKEA as a DIY market, combine parts, and stack and attach them for an evocative, conceptual, unique design. And if you do this using the IKEA goods you were about to put out with the rubbish, you'll even be hacking sustainably.
So – Dutch-design your IKEA!